Art
Intent:
At Dobwalls School, we believe that the arts are vital for the development of the child as a whole and support an inspirational environment where children get the best possible education. Art is seen as a valuable and significant aspect of the taught curriculum and an important part of every child's education. Art focuses on providing high quality education where children are challenged and inspired to work creatively and think like an artist.
Through the teaching of art, we aim to develop the children's ability to learn with confidence in two and three dimensions and on a variety of size and scale. Children are encouraged to represent their own ideas, thought and feelings through art by exploring and using a range of materials, tools and techniques, experimenting with colour, design, texture, form and function. We encourage children to be curious and to ask questions as well as developing specific skills and techniques. Through studying and evaluating the work of a diverse range of artists we aim to encourage children to become critical thinkers and understand and appreciate their own and others cultural heritage.
The National Curriculum for art and design aims to ensure that all children:
Produce creative work, exploring their ideas and recording their experiences
Become proficient in drawing, painting, sculpture and other art, craft and design techniques
Evaluate and analyse creative works using the language of art, craft and design
Know about great artists, craft makers and designers, and understand the historical and
Cultural development of their art forms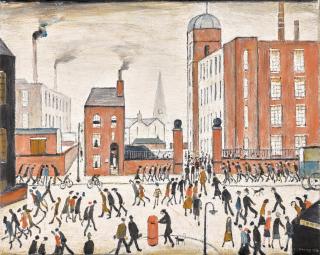 Implementation:
Art is taught through carefully planned and structure units of work with a clear focus on a specific concept and skill / skills. The children return to these concepts and skills as part of the school's spiral curriculum.
Art is taught in units throughout the year on a half termly basis, children complete three units of work each year.
Teaching develops the children's understanding of the concepts of colour, audience and implementation are included each year.
The skills of colour, drawing, form, printing and collage are taught progressively with each year group building on the skills that the children have already acquired.
The key knowledge and vocabulary for each unit of work has been identified by the teachers and form the knowledge organisers that are used by the children to support their learning.
Wherever possible art is linked to the topic being taught in that class and make links to other subjects such as English, Geography and History.
SECRET Skills are an integral part of art units of work and support the school's philosophy on education.
Where possible art units of work are enhanced by the use of educational visits, visits from artists to school and links with local, national and international organisations.
Teaching is adapted to meet the needs of children with SEND.
Art Progress of Skills Dobwalls Primary School
Art Assessment Concept Tracker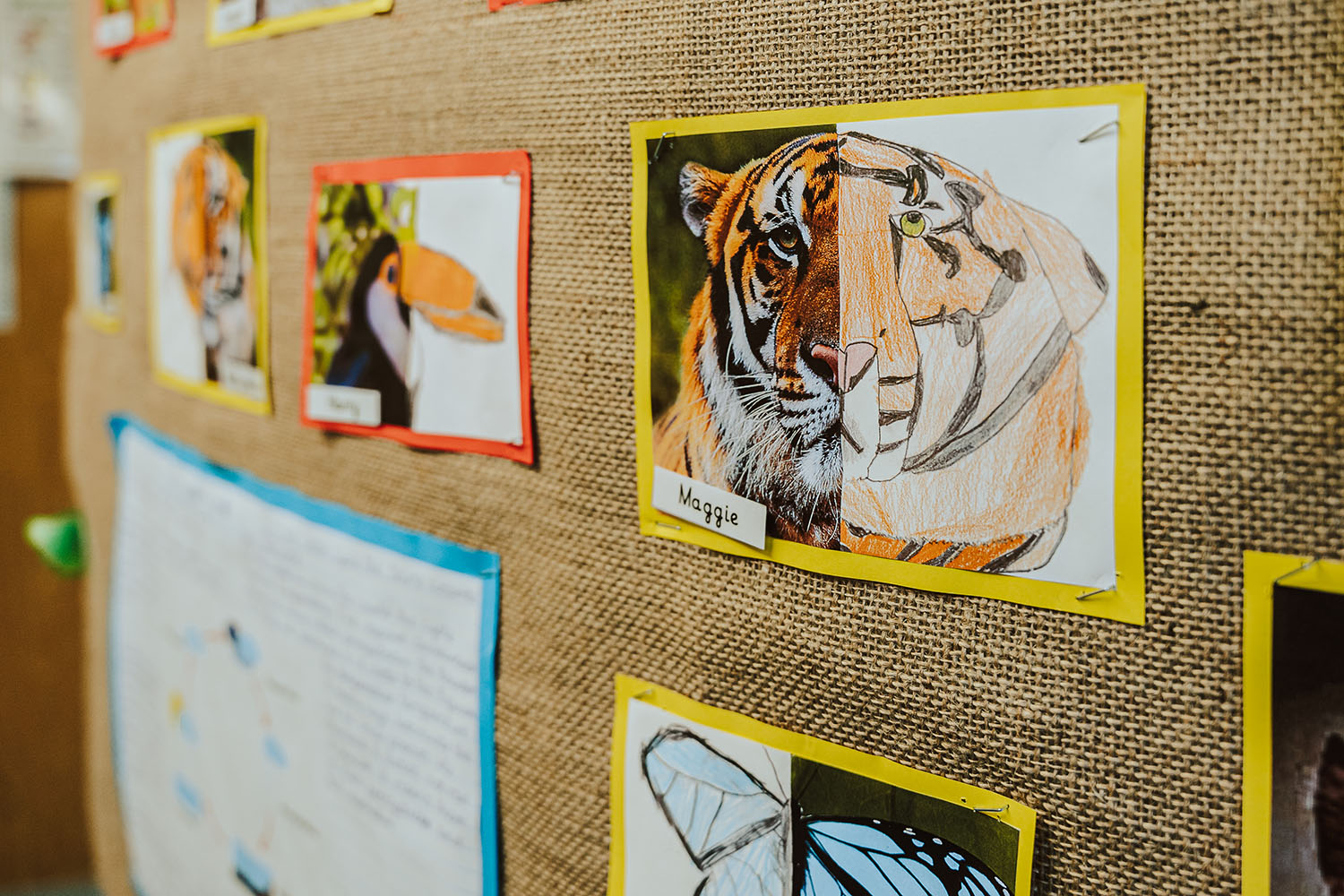 Impact:
By the end of Key Stage 2, every pupil at Dobwalls Primary School has experienced progressive learning of a range of art skills as well as artists. Well planned and taught lessons lead to children who develop good conceptual understanding of art as well as developing proficient skills. Our spiral curriculum, combined with the use of knowledge organisers, in conjunction with the SECRET skills, ensures children can think like an artist and develop a solid schema for their future education. Our focus on concepts, particularly the use of colour supports their education into Secondary School and beyond.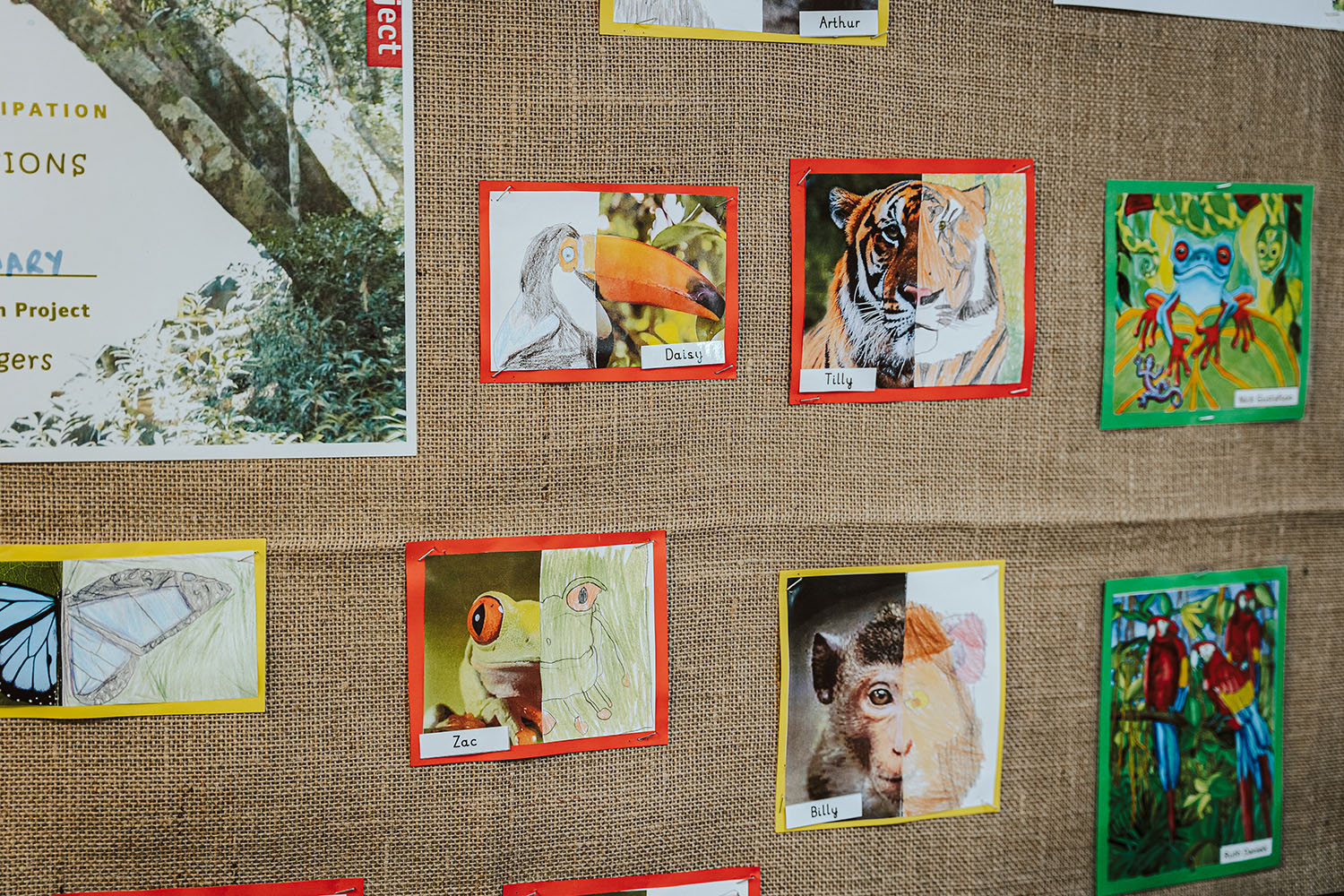 Year Two Art - Printing Techniques:
They printed using natural objects and learnt about block printing. They used their imagination to design and make a topic themed tile before printing on plain paper. The designs looks fantastic, well done Year Two!
Year Three:
Cave Paintings drawing with charcoal
Y3 Art
Year 4 Sculptures:
They made sculptures inspired by an Anglo-Saxon village. They started by looking at structures and exploring some sketches surrounding different structures, then learned how to join different materials and explore some of their own ideas. Super art!
Year Six Self-portraits:
Enrichment:
We aim to provide children with creative, active and real opportunities to learn about art. Our enrichment activities are planned as appropriate to enhance our learning. We link with local artists when possible.
Artist of the Term
Each term, we introduce the children to a famous artist to learn their style of art as well as information about the artists and their style of art.
Whole School Christmas Art Day
Art Day 2021 focused on developing our skills in printing whilst being immersed in art for the day. Each class created a display based around a Christmas Carol.
Christmas Art Day 2022 focused on developing children's skills with drawing and the use of colour based around the theme of giving. The Infants focused on Father Christmas and the Juniors focused on The Magi.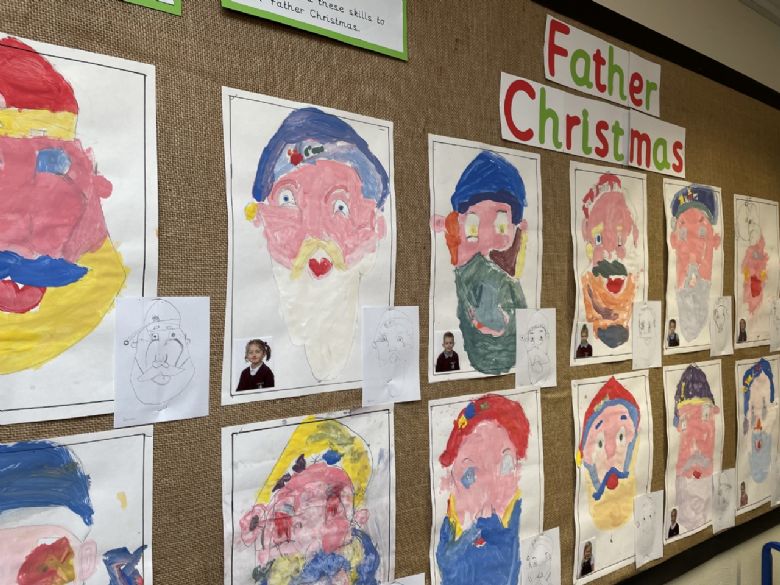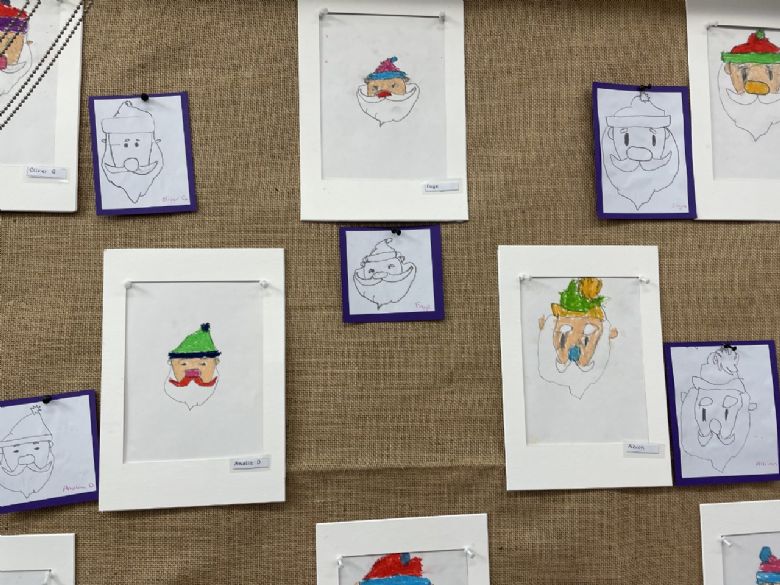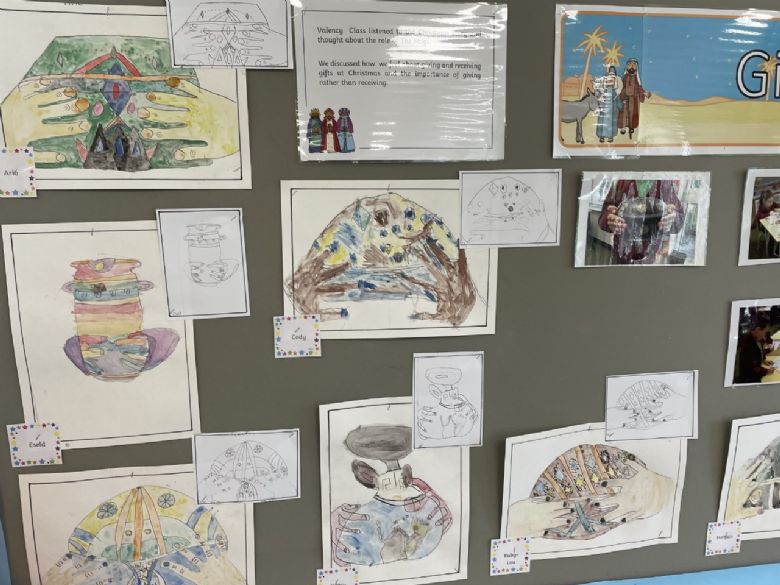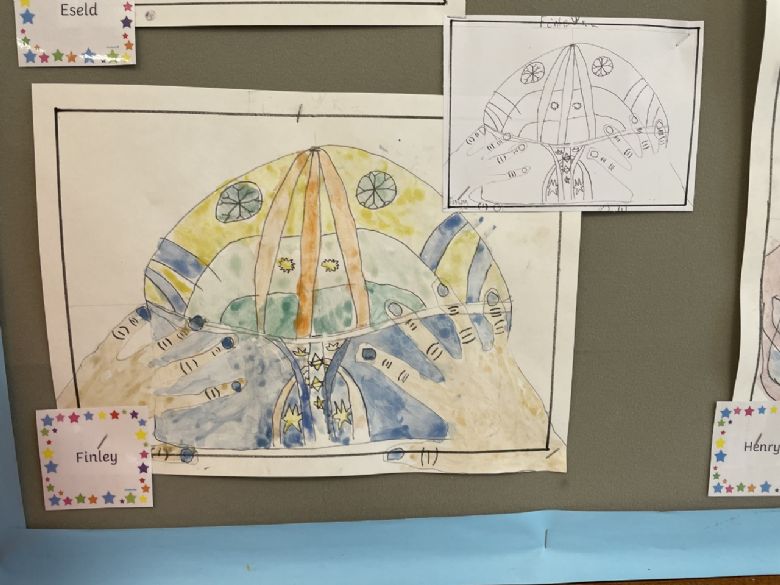 Year Three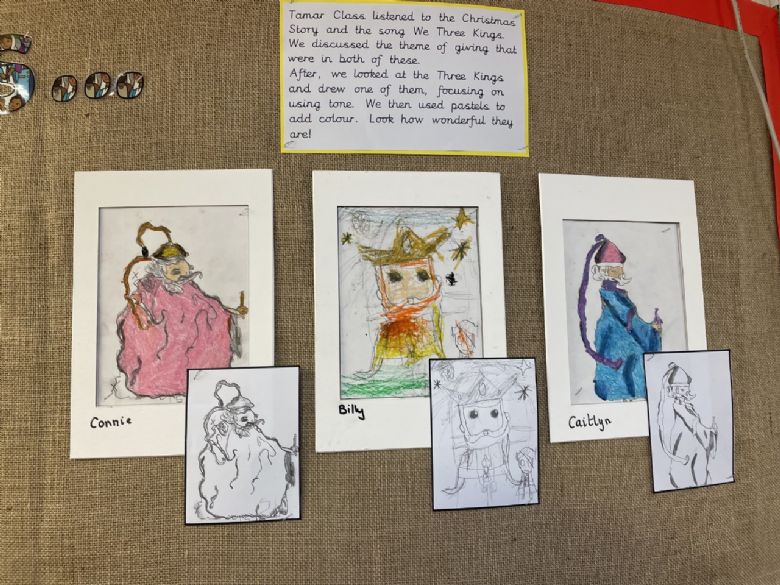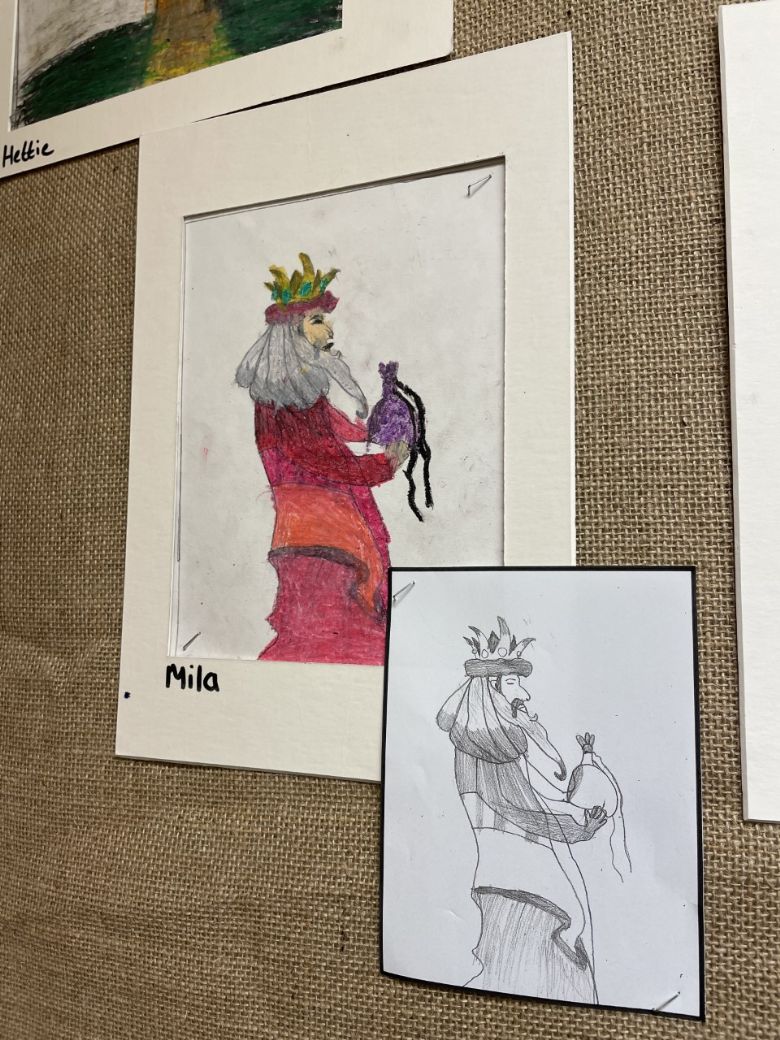 Year Four