Exploring Ancient Egypt: Year 3 Egyptian Day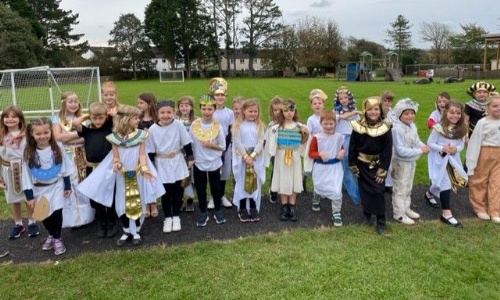 Year 3 students recently embarked on a journey back in time to Ancient Egypt, bringing the rich history and culture of this ancient civilisation to life.
The atmosphere at the school was buzzing with enthusiasm as the students arrived in an array of brilliant costumes, truly immersing themselves in the spirit of Ancient Egypt. The day was brimming with a variety of engaging activities that allowed the students to experience, first-hand, the wonders of this fascinating civilisation.
One of the highlights of the day was the exploration of hieroglyphics, the ancient Egyptian writing system composed of intricate symbols and characters. The children had the opportunity to decode and write their own messages using these symbols, unlocking the secrets of a bygone era.
Another activity was the creation of flatbread, a staple in the ancient Egyptian diet. Students rolled up their sleeves and got their hands doughy as they kneaded and shaped the bread, and they were rewarded with a delicious taste of history.
Mummification, an iconic practice of the ancient Egyptians, was also on the agenda. In a playful twist, the students learnt how to mummify tomatoes, gaining an insight into the intricate process of preserving the deceased for the afterlife.
The day was not just about knowledge but also about physical expression. Egyptian dancing provided an energetic and immersive experience for the students. As Jagoda exclaimed, "The dancing was brilliant - it was exhausting!" The children swayed to the rhythmic beats, getting a taste of the lively culture of Ancient Egypt.
When it came to food, the students had the chance to taste traditional Egyptian fare, including flatbread and tzatziki. Faye shared her experience, saying, "I tried flatbread and tzatziki – it was a messy but great day!" It's safe to say that these culinary adventures left a lasting impression.
The day was a great success, leaving students like Freddie exclaiming, "It was the best day!" Beyond the fun and excitement, Year 3's Egyptian Day provided a unique opportunity for these young minds to delve into history and culture, igniting their curiosity about the world's fascinating past. Ella summed it up perfectly, saying, "It was so good, and the bread was delicious."
In a world full of distractions, such immersive and educational experiences help our children appreciate the diverse tapestry of human history and traditions. Year 3's Egyptian Day was not just a day of fun; it was a day of learning, discovery, and inspiration.