Dobwalls Welcomes Trust Student Council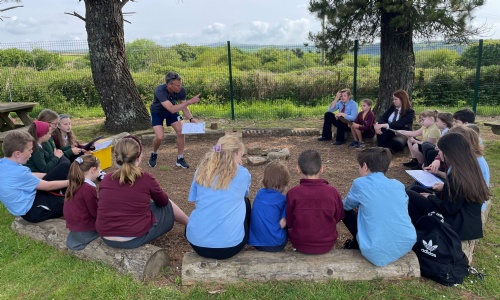 On Friday 19th May, Dobwalls Community Primary School had the pleasure of hosting the Trust Student Conference.
Noah and Ariel took charge of the conference, titled "Our SMART Trust," which proved to be a fruitful and engaging event. The day commenced with an exciting orienteering activity, where the students explored the school grounds and had the opportunity to foster connections with their peers while working together as a team.
Following the orienteering adventure, the children took a moment to reflect on the SMART vision, encompassing SMART leaders, SMART learners, and SMART communities. They eagerly discussed the qualities and attributes that embody these ideals, drawing inspiration from their orienteering experience and reflecting upon their own schools. The students identified words such as determination, teamwork, friendship, and tenacity, which they discovered played a vital role in manifesting the SMART vision. As a fun and memorable experience, they even savoured the joy of "eating" these impactful words.
To culminate the conference, the children collaborated in teams to create a captivating collage representing our SMART Trust. Witnessing the students from different schools within the Trust come together and work harmoniously throughout the day was truly inspiring and heartwarming.
The event provided an excellent platform for the members of the Trust Student Council to unite, explore, and develop relationships with their peers. It also allowed them to reflect upon and embrace the core values of the SMART Trust. Through activities like orienteering, thoughtful discussions, and collaborative art projects, the students were encouraged to embody the qualities that make them SMART leaders, learners, and contributors to their communities.
Dobwall Community Primary School feels privileged to have hosted this enriching event and eagerly anticipates future gatherings that foster collaboration, personal growth, and the development of future leaders within the SMART Trust.