Dobwalls' Green Day: A Day of Learning and Giving Back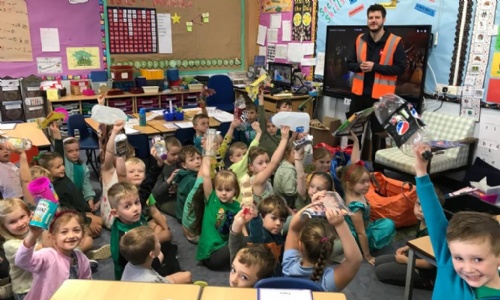 On the 6th of October, Dobwalls Primary School celebrated Green Day. The students arrived at school dressed in various shades of green, all with the shared goal of enhancing their understanding of sustainability and climate issues while taking practical steps to make a positive impact both locally and globally.
The school was pleased to host special guests who provided enriching experiences for the children. The students were eager listeners, asking insightful questions throughout the day. Amongst the visitors were Jade from Clean Cornwall, Paddy and Will representing Biffa, Sarah from the Foodbank, and Merlin from Cabilla.
One remarkable aspect of the day was the generosity displayed by the children and their families from the school. They made generous donations to the Foodbank, aiming to reach the goal of #atonneoflove. The eagerly anticipated total weight of the collected items from the Foodbank is yet to be revealed.
Paddy and Will added an exciting touch to the day by bringing their recycling truck to school, captivating the children as they learnt about its operations. Jade engaged the students in a discussion about the adverse effects of plastic pollution and litter. Sarah shed light on the essential role of the Foodbank and shared tips on saving money through cooking with long-life foods.
Merlin from Cabilla conducted a captivating and thought-provoking assembly, focusing on the development of the British Rainforest, which is just a stone's throw away from the school. The work being carried out at Cabilla proved to be truly inspiring.
Overall, Dobwalls' Green Day was a fantastic educational and charitable event that brought joy and learning to everyone involved.
Such a great day for one and all.