Coronation Celebrations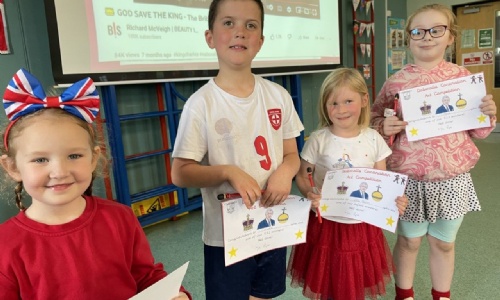 On Friday 5th May, we spent the afternoon celebrating the Coronation. Children came to school in a plethora of red, white and blue. We have spent time learning historical facts about the Coronation across the school this afternoon.
In Year 2, children have written a recipe for the perfect King! All children have solved puzzles with historical facts to develop their knowledge and understanding. The afternoon was finished off by a super afternoon tea party! Thank you to our amazing parents for all the food donations.
We also held a competition for children to create a picture to celebrate the Coronation which are proudly displayed on our fence outside the school. We hope the village enjoy our pictures! Big congratulations to our winners Mina, Luke, Ella and Florence.

Happy Coronation one and all!